Vahagn Rash (Rushanyan) was surprised and angered when his Lexus's catalytic converter was stolen in broad daylight on January 24, 2022, while his car was parked on a street in downtown Yerevan.
Rushanyan, a composer and singer, in a Facebook post, wrote that it is akin to living in a lawless country.
Other drivers who were victims of the same theft joined in the discussion.
Yerevan resident David Pedanyan also had his catalytic converter stolen while the car's alarm system was on. He only realized what had happened when he drove the car the next day and heard strange engine noises.
Thieves covet catalytic converters because they contain precious metals, primarily platinum, palladium and rhodium. A gram of platinum today costs $32, palladium – $67, rhodium – $510.
A catalytic converter is an exhaust emission control device that converts toxic gases and pollutants contained in the exhaust gases of an internal combustion engine into less toxic pollutants.
Pollution from automobile emissions is a growing problem in Armenia, especially on the congested streets of Yerevan.
Transport accounts for 66.5% of atmospheric emissions in Armenia. According to the latest National Greenhouse Gas Cadastre report from 2017, road transport emissions have increased since 2000 ․ Between 2000 and 2017, road emissions increased by more than 150% due to increased traffic. The only exception was in 2009, due to the economic downturn.
Record number of flights in 2021
2021 saw a record number of catalytic converters stolen in Armenia. Police told Hetq that 75 thefts were reported last year, significantly more than seven in 2020 and five in 2019. No thefts were reported in previous years.
Who exports catalytic waste?
There are many companies in Armenia that export metals derived from catalytic converters. Data provided by the State Revenue Committee of Armenia lists private companies owned by Ashot Tigranyan and Alexander Khachatryan, and Gevmag LLC as the top three.
However, the data is old. Hetq's research shows that Gevmag no longer exports this type of scrap.
Record exports in 2021
2021 was also a record year for catalyst scrap. 61.7 tons of waste catalytic converters containing various precious metals were exported to Germany, the United States, Lithuania, Russia and Spain from Armenia last year.
Ashot Tigranyan would not tell Hetq who he exports to in Europe.
"We give it as waste to individuals who then resell it. I have no idea where it ends. We have contracts with these people. They pass it on to factories or machine-building companies," Tigranyan told Hetq.
Converters are also ground and exported as a powder.
Arthur Sargsyan, founding director of Avocad, a catalyst export company in Armenia, explained the process to Hetq. He said the price of metals is checked daily on the London Stock Exchange.
Hetq asked the State Revenue Committee (SRC) if this "powder" was listed as an export item on its books. Naira Nikoghosyan, who works in the Customs Statistics and Information Department of the CRS, replied that such an export code does not exist.
RobArs LLC, located in the Nor Nork district of Yerevan, is one of the main exporters of catalytic converters and buys old units.
RobArs LLC grinds and bags catalytic converters
Employee Andranik Cholagyan told Hetq that the company sold the base converters to a Toyota plant in Europe.
The company's founding director, Armen Arsenyan, thinks the government should not ban the export of catalytic converters, but impose a ban on driving without them.
Car inspections in Armenia currently do not require such units.
Last year, Armenia's Economy Ministry published a draft law to impose a temporary ban on the export of ceramic waste from used car muffler catalysts.
Arsenyan says such a ban will not help reduce air pollution in Armenia. He argues that given the poor quality of gasoline in Armenia, many converters are no longer repairable after long use and must be replaced immediately.
Artur Sargsyan moved his business from Russia to Armenia in 2021. And soon after, he opened a catalytic converter repair and replacement workshop in Yerevan.
"By closing or banning, we will not receive any benefits. People working in this field earn money and can support their families," says Sargsyan.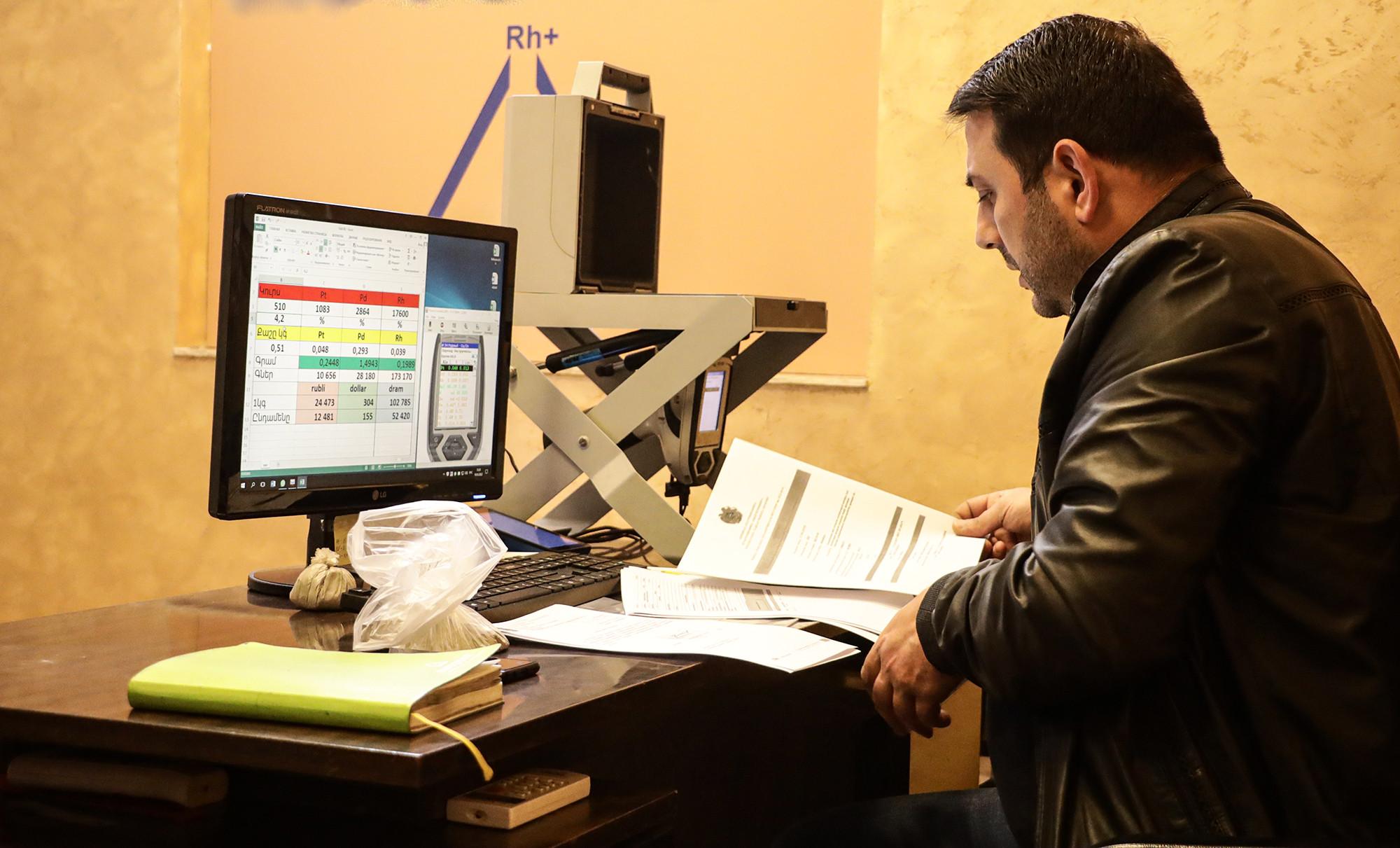 Artur Sargsyan checks the contents of converters on the ground
He claims the car's catalyst loses efficiency over time, running on gasoline after 100,000 km and natural gas after 50,000 km. The failed catalyst affects the performance of the car. The company buys the converters that do not work and exports them to Russia.
Sargsyan says if it weren't for companies like his, drivers would just throw away their old converters, causing more pollution. His company sells the shredded scrap to a factory in Russia.
Car owners in Armenia are in a bind because, according to Sargsyan, they cannot find new replacements for their old catalytic converters. Ordering from abroad costs between $1,000 and $2,000. Buying a used converter is only a short-term solution.
Hetq asked the State Revenue Committee how many new catalytic converters had been imported into Armenia over the past ten years. No such data exists.
Proposed changes to the law
Last year, Armenia's environment ministry proposed that all cars imported into Armenia after 2020 can only pass inspection if they have a working catalytic converter.
The impetus was Armenia's obligation under the Paris climate agreements to reduce greenhouse gas emissions by 40% by 2030.
The ministry's bill is now "pending" and subject to change.
According to Arthur Ghavalyan, deputy director of the Department of Strategic Policy of the Ministry of Environment, the draft law has shortcomings that need to be corrected.
On the one hand, car inspection stations in Armenia lack equipment to check the efficiency of catalytic converters.
When asked what drivers should do if they have to buy new converters that cost more than the vehicle, Ghavlanyan replied, "Residents' health and lives are more valuable.
He says that 90% of cars in Armenia do not have catalytic converters.
Caption of the first photo: Rushanyan posted the photo of a stolen converter
If you found a typo, you can let us know by selecting the text box and pressing CTRL+Enter